The first version of the Emofaces.com screensaver is now released. At the moment it is a fairly simple screensaver with the main three designs - emoticons, buddy icons and smilies - bouncing happily around your screen. I hope to add more Emofaces to the screensaver in the near future.
Below you can see screenshots of the actual screensaver. Since the Emoticons, Buddy icons and Smilies bounce around in the real screensaver they don't show how hypnotic it is. They will give you an impression though!
Emofaces.com screensaver features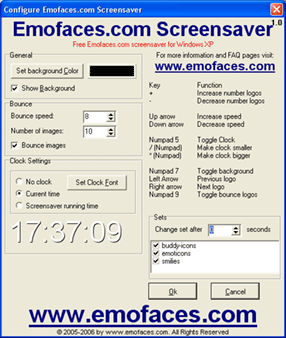 The screensaver is fully configurable. You can:
Set whether you want to see Emofaces, Buddy Icons or Smilies
Change the Emoface type randomly after a set time
Set the number of Emofaces in the screensaver
Set the speed of the logos
Turn the clock on/off
Set the size, font and colour of the clock
Turn background logo on and off
Select whether logos should bounce
When the screensaver is running, you can use the following keys to set the options:
Key
Function
+
Increase number of images
-
Decrease number of images
Left arrow
Decrease speed
Right arrow
Increase speed
Up or Down arrow
Change Emoface type
/ (Numpad)
Make clock smaller
* (Numpad)
Make clock bigger
Numpad 5
Change clock
Numpad 7
Change background
Numpad 9
Change bounce images
Known bugs
If there are a lot (and I mean a lot) of Emofaces on the screen they sometimes tend to cluster together and not get unstuck any more.
This screensaver has only been tested on Windows XP, use on other Windows versions is entirely at your own risk.
Initial release v1.0 (10 December 2006)